Fire safety is a recurring topic that is regularly debated at local and national level. Today, safety standards are becoming increasingly stringent. The objective is clear: to limit the spread of fire and the emission of toxic fumes in the event of a fire. This safety aspect is paramount and has led to the introduction of draconian standards, particularly for installations in railways, public places and high-risk industrial sites where "halogen-free" products have become compulsory. However, the use of halogen-free materials also extends to many other sectors.
SES-STERLING offers a very wide range of halogen-free self-extinguishing products.
Your safety and that of your installations have always been our priority.
What is a halogen-free material?
In order to make electrical installations as safe as possible, halogen-free materials are becoming more and more widespread.
"Halogen-free" limits the toxicity of fumes in the event of combustion.
"Halogen-free" in the composition of the plastic material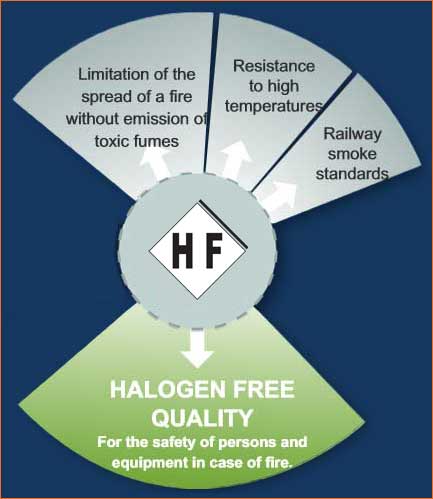 Many plastics used in the cable industry are self-extinguishing. This means that the material will self-extinguish on combustion. To achieve this, these materials often contain halogenated elements such as fluorine, chlorine and bromine. These components are known to give off dense and corrosive fumes when burnt.
Conversely, a halogen-free material gives off smoke of low toxicity.
In order to limit damage and harm in the event of fire, we are constantly researching new materials to develop halogen-free self-extinguishing alternatives to protect, fix and/or mark your cables.
Quality and safety are two essential components in the design of our products. Year after year, we have expanded our range of halogen-free products by carefully and expertly choosing our materials. We develop new formulas, carry out a drastic selection and rigorous tests for each of our products. Our objective is to meet the standards in force and to offer you safe, high-quality products.
This expertise acquired over the years enables us to offer you an increasingly complete range of halogen-free products, whether you need to protect, fix or mark your cables. In this wide range, we would like to introduce you to our cable trunking.
Our halogen-free cable trunkings:
Halogen-free cable trunking is widely used in all electrical installations and is often one of the first products to burn in the event of a fire.
A fire-resistant cable trunking without halogenated components is therefore essential here to protect you. The advantages of the material selected for our halogen-free cable trunkings in the event of fire:
Self-extinguishing,
no toxic fumes,
low smoke emission,
low smoke opacity,
GN-HF-A6/4 DRAIN: a practical and safe cable trunking
Easy to use, the GN-HF-A6/4 cable trunking allows clean cable routing and quick installation.
Its innovative design allows easy opening and closing of the lid for quick cable insertion. The side tabs can be completely separated thanks to the primers at the bottom of the cable trunking, which allows for optimal adaptation to your installation.
The cover of the cable trunking has an alignment guide for easy location.
The perforation in the bottom allows for easy fixing.
Our halogen-free cable trunking is available in 5 heights and 9 widths, with side slots. This cable trunking is also available as GF-DIN-SH-A7/5, specially adapted to DIN profiles.
More about the GN-HF trunking…
More about the GF-DIN-SH trunking…
Accessories for halogen-free cable trunking
Retaining clip BR-GN-HF
The BR-GN-HF retaining clip ensures that the cables are held in the cable trunking during installation. Specially designed for GN-HF-A6/4 cable trunking, its two split parts allow it to be optimally adapted to the width of the cable trunking for a strong and reliable hold.
More about the BR-GN-HF retaining flanges…
Identify your cable trunking with PE label holders.
In any good installation, even cable trunkings must be clearly identified. The PE-A6/4 and PE-A7/5 label holders allow you to clearly and easily identify your cable trunkings.
More about the PE label holders…
How to guide your cables without a cable trunking? The PLIOCATCH alternative solution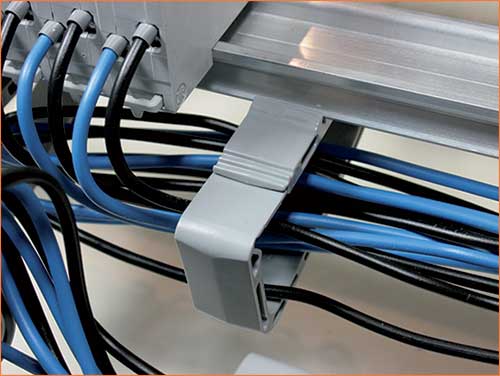 An alternative solution to standard cable trunking, the PLIOCATCH DELTA L and M cable guide allow you to run and guide your cables horizontally on modular elements mounted in double DIN or OMEGA rail. PLIOCATCH DELTA has a capacity equivalent to a 60x40mm trunking. Its shape allows it to take up very little space. It will ideally find its place in your most complex installations.
More about the PLIOCATCH DELTA range…
Our other halogen-free accessories
SES-STERLING offers many other halogen-free products for the protection, fixing and marking of your installations:

Find the complete list of our halogen-free products in our catalogue
---
Do you have a question? Do you have a project?
A specific request?
Would you like a demonstration?
Contact your expert adviser?

---
Find us on social networks: