Antistatic spiral binding PLIOSPIRE ESD from SES-STERLING represents a new range of innovative spiral tubing. The purpose is to protect your electronic components sensitive to electrostatic discharges (ESD). The latter are likely to cause breakdowns and interference, thus generating additional costs.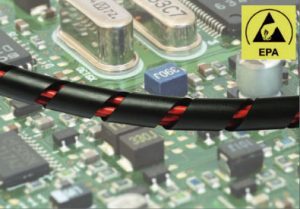 Property of Polyolefin, a conductive material
This antistatic spiral binding is made of Polyolefin which has electrically conductive properties.
As a result, the PLIOSPIRE ESD tubing has permament antistatic properties, thanks to a constant resistivity over time, without the ambient humidity having any impact.
In order to guarantee optimal operation of this spiral tubing, it must be connected to the Earth.
Products for EPA areas
PLIOSPIRE ESD tubing has been developed to meet the needs of EPA (or ESD Protected Area).
May be concerned by the interest of this product:
Hospitals,

Pharmaceutical companies,

Army,

Data centers,

Places sensitive to explosion hazards,

etc.