Insulation and marking products is essential for the installation and maintenance of electrical equipment. Good forward preparation of products required is also essential for efficient working. To give you peace of mind and save you time, we offer a range of boxes offering assorted wiring accessories. You'll have everything you need organised and to hand.
Assortment box of grommets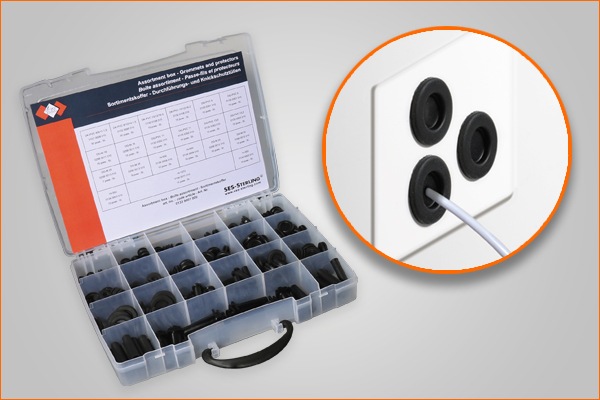 Grommets protect wires and cables from wear and tear as they pass through partitions or sheet metal. The gradual wear and tear of an electrical wire without any protection from a grommet can quickly become a problem, leading to short circuits with unpredictable consequences.
To make your work more efficient, we've put together an assortment box of 305 grommets to cover your most common uses.
Whether you work in maintenance or industry, this assortment box of grommets will quickly become a must-have for its ease and convenience.

> Discover the grommet assortment box <
Assortment boxes of sleeves for cable protection
Sleeves are commonly used to insulate, protect and identify cables. The number of cables to be processed can often be large.
HELAVIA® sleeve assortment box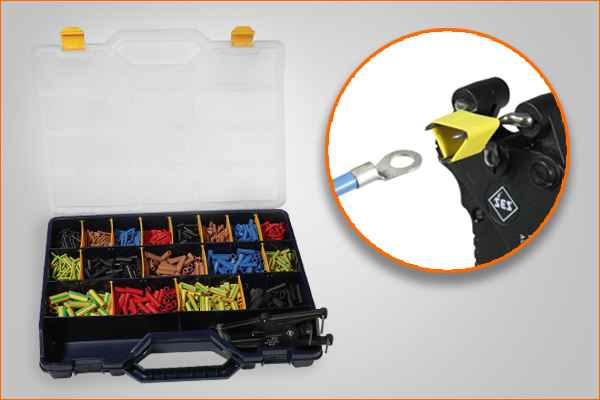 To save you time, we offer you an assortment box of ready-to-use HELAVIA® sleeves for your most common cable identification and insulation jobs. The HELAVIA® sleeve assortment box consists of 2,100 sleeves in various colours and a KY3 sleeving tool.
Everything is at hand to make your work as easy as possible.
The HELAVIA® sleeve assortment box will become essential to have with you at all times

> Discover the HELAVA® sleeve assortment box <
Assorted box of PLIOFINE B-EX heat-shrinkable sleeves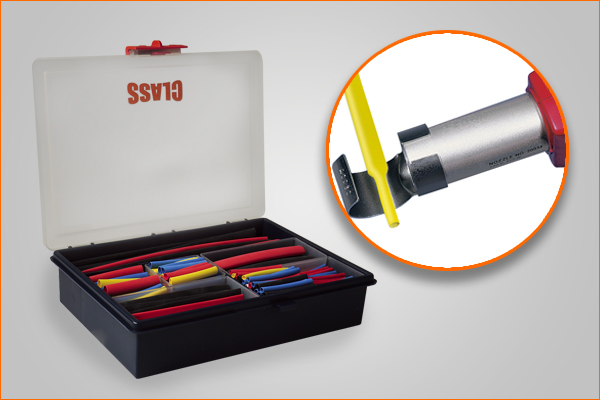 Heat-shrinkable sleeves are commonly used for maintenance. They identify, repair, protect and insulate cables. Shrinking heat-shrinkable sleeves using hot air guns ensures protection as close as possible to the cable. It's an added safety feature for your installations.
To make your maintenance operations easier, we offer you a kit of 376 PLIOFINE type B-EX heat-shrinkable sleeves.
This practical box means you can have all your heat-shrinkable sleeves to hand, so you can work more quickly.

> Discover the PLIOFINE B-EX heat-shrinkable sleeve kit<
Cable identification boxes
Correct cable identification is essential. It makes it easier at a glance to understand how an electrical installation works. There are many different ways of identifying cables depending on requirements, and this often requires preparation beforehand as well as equipment to be shipped to site. To make your cable identification operations easier, we offer you three practical, organised and easy-to-transport boxes.
PLIOGRIP cable marking box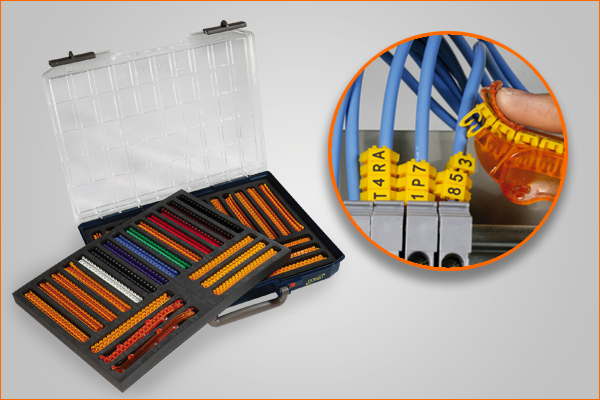 The PLIOGRIP cable marking system is ideal for permanent identification of cables with cross-sections from 0.15 to 6 mm2. Clip-on and easy to install thanks to its installation tool, it lets you identify cables quickly before or after connection. It's a legible, durable, reliable and effective solution.

The PLIOGRIP marker box gives you everything you need for fast, accurate work in the field. Well-organised in a practical case, the set includes PLIOGRIP markers from A to Z and 0 to 9 and PLIOGRIP installation tools for quick and easy installation of markers.
> Discover the PLIOGRIP cable marking set <
PLIOMARK MINI cable marking box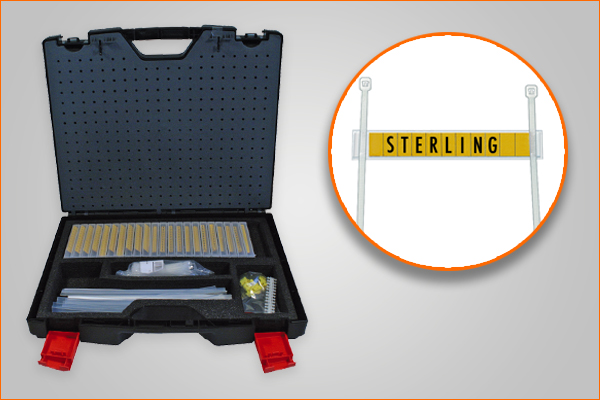 PLIOMARK MINI cable marking labels are versatile and can be used to mark a wide range of items: large cables, pipes, equipment, machines, storage bins, drawers and enclosures etc. for all industrial sectors…

The labels feature a comprehensive range of markings (from A to Z, 0 to 9 and the most common symbols) that are both legible and durable.

The labels can be securely attached using support strips, cable ties, end caps and locking studs.

We offer a complete 281-piece installation kit that can be easily transported in a ready-to-use case.
> Discover the PLIOMARK MINI cable marking box <
PLIOSTRAP-8 cable marking box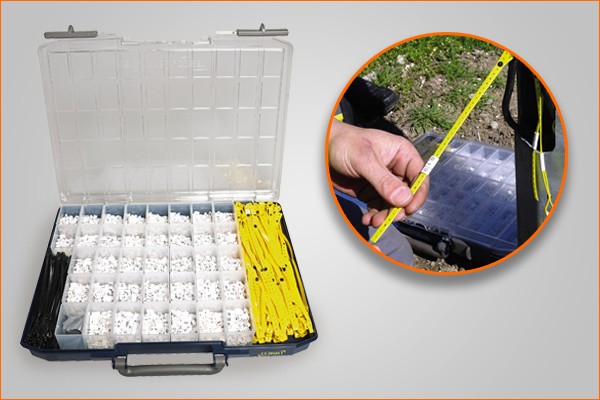 The PLIOSTRAP-8 strapping cable marking system is ideal for marking cables outdoors. It is ideal for identifying public lighting installations. The markers are located on the strap to provide clear, durable visibility.

To make it easier to install your marker outdoors, we're offering an easy-to-transport PLIOSTRAP-8 all-in-1 box containing 401 parts.
> Discover the PLIOSTRAP-8 cable marking box <
In conclusion
SES-STERLING's range of installation and maintenance cable accessory boxes and kits are designed to be practical. Easily transportable, they save you time. You have everything you need to be as efficient as possible, while working with quality accessories that have been developed using almost a century's experience.
If you'd like more information or to discover our range of 26,000 references all around cable,
contact one of our expert advisers.
For almost 100 years, we've been helping you with all your cable-related projects.
---
You may also be interested in
Follow us on social networks :