What if the marking became easy to customise?
Like every project, every installation is different, complex and unique. A good marking solution allows you to be more effective in customizing your marking. In certain fields, a standard marking solution quickly shows its limits
(a series of numbers and letters that are difficult to decipher, identification rings that overlap…).
At SES-STERLING, we are always attentive to your problems.
We offer you a personalized marking solution that is as simple as it is effective: The PLIOMARK-PRINT EOS5 printer!
PLIOMARK-PRINT EOS5 PRINTER: personalized marking, quick, easy and durable.
Easy to use:
As easy to use as a conventional printer, PLIOMARK-PRINT EOS5 allows you to quickly obtain clear and easily identifiable marking. Coupled with the PLIOMARK-PRINT software, with a simple click, you can print a personalized and durable marking.
This is a high-performance thermal transfer printer capable of permanently printing all kinds of marking on different media.
PLIOMARK-PRINT SOFTWARE: click, personalize, print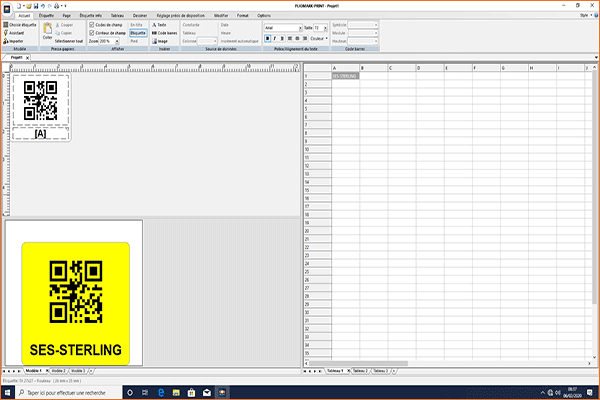 Thanks to the PLIOMARK-PRINT software, you can customize all types of identification label formats. It's quick and easy. Very intuitive, the software is as easy to use as a classic word processing solution.

Virtually unlimited personalization:

Don't be satisfied with a simple text, you can personalize your marking according to your needs. QR CODE, images, barcodes…, you will no longer get lost in the cable jungle. Our printer and our software solution adapt to your projects and your constraints.
Download and enjoy our free software PLIOMARK-PRINT with no time limit. Access the basic functions and get started! The software can also be used with a conventional office printer.
CLICK HERE TO DOWNLOAD PLIOMARK-PRINT SOFTWARE…
(The full version is available free of charge for a 30-day trial period)
With every purchase of a printer, you will receive the full version of our software free of charge.
In addition to the basic functions, it allows more advanced personalization such as the addition of QR code, images and the creation of new label formats.
THE ADVANTAGES OF THE EOS5 PLIOMARK-PRINT PRINTER
Versatile use :
The PLIOMARK-PRINT EOS5 printer allows you to print a wide range of items:
texts from EXCEL files
images
barcodes
QR-codes…
The possibilities are numerous to allow you to personalize your marking according to your needs.
Printing speed:
PLIOMARK-PRINT EOS5 enables fast, mass printing of personalized marking. You can print at a speed of up to 150 mm/s without any loss of quality. Once printing has started, the printer is self-contained so that you can concentrate on other tasks.
Durable marking:
Durability is a recognised quality of SES-STERLING products.
We attach great importance to your marking being resistant to the environment and time. Our thermal ink ribbons and marking media provide you with a print that will stand the test of time.
Our thermal ink is resistant to chemicals and abrasion. 2 colours available: white and black. Our ribbons are available in 3 different width sizes: 55 mm, 60 mm and 110 mm.
Robust multi-media marking:
SES-STERLING offers you a variety of PLIOMARK-PRINT EOS5 compatible printing media.
Strip-TF :
TF strips are ideal for marking and identifying small single-conductors and fibreglass cables up to 16mm2 in cross-section. Made of polyester, these strips are halogen-free and resistant to moisture, oils and chemicals. Installation is quick and easy. The TF strips are available in several colours: white, blue, green, yellow, red.
PUR carriers :
Made of thermoplastic polyurethane (TPU), this highly flexible marking support is ideal for the use in demanding environments, both indoors and outdoors.
Halogen-free, PUR carriers are resistant to micro-organisms, hydrolysis and chemicals. Coupled with our SES-QUICK cable ties, this marking solution will not move and will withstand harsh conditions. The PUR carriers are available in several colours: white, blue, yellow, orange, red, black.
TA foam labels

Designed for the marking of components in the industrial sector (panels, push buttons…), these adhesive consumables are an economical alternative to engraved plastic marking.
Halogen-free, this marking solution made of polyester foam is UV and chemical resistant. TA foam labels are available in a wide variety of sizes and shapes (round, in strips or labels). 2 colours are available: white and silver.
PLIOMARK-PRINT, how does it work?
Not yet convinced by the effectiveness of our personalized marking solution?
Here is a video demonstration:
Find out more about the PLIOMARK-PRINT EOS5 printer…
---
Do you have a question? Do you have a project?
A specific request?
Would you like a demonstration?
Contact your expert adviser?

---
Find us on social networks: