You need a threadless cable gland to install quickly? The PLIO-SPEED cable gland will meet your expectations.
Product available for walls from 1 to 2.5 mm (grey flange) and from 2.5 to 4 mm (green flange).
Quick assembly of the cable gland
Quick assembly of the cable gland
The PLIO-SPEED cable gland is assembled in 3 seconds, which represents 85% time saving compared to a conventional cable gland.
This is possible thanks to an adapted and ergonomic tool. A simple push is all it takes to install the cable gland.
This clamp is suitable for all tip sizes. To do this, simply change the spindle.
One objective: to facilitate the installation of the cable gland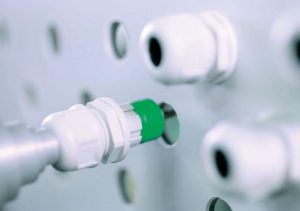 With this product, you avoid a tedious installation.
Indeed, the assembly is simple since it is always done from the front. This makes it possible to mount in places that are difficult to access.
It is not necessary to mount a locknut behind the wall with the PLIO-SPEED cutting press. If you need this system for boxes, there is no need for internal access to the device.
Optimized and durable assembly
Space optimization
With the PLIO-SPEED system, you save space: the cable glands can be mounted side by side thanks to their narrow bodies.
For a reliable installation
No unscrewing or loss of locknuts is to be expected: the fixing is durable even under vibration. The locking is final.
This is made possible by the snap-in system that has been adopted in this device.
To view the method used for the assembly, you can watch the following video:
The brochure and catalogue page are available in PDF format.
If you require other colours, sizes and thicknesses than those offered, this can be done on request. Contact us!